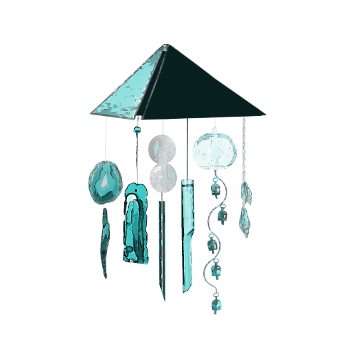 Helinä
"Helinä" can be translated as "the tinkling sound made by the shaking of tiny bells".  These may be wind chimes, and some are quite large, but the meaning of the name still rings true.  Beautiful, glorious, and entrancing wind chimes, all stirred up for your designing and listening pleasure.

We've meticulously recorded and only very lightly edited 15 different sets of wind chimes composed of varying materials, shapes, and sizes. The result is a stirring array of shimmering textures from the soft dull knock of bamboo to the brilliant crystalline sparkle of obsidian. 

The chimes sets and performances include:

Chimes:
Bamboo
Glass Shards
Porcelain Bell
Cast iron Bell
Glass Bell
Stoneware
Obsidian
Buoy
Paper/Mixed
Copper
Aluminum
Bronze
Agate
Shells
Capiz
Performances:
Flowing (Short, Med, Long)
- Breeze (Light)
- Windy (Moderate)
- Stormy (Heavy)
Quaking
Plops
Gusts
Strikes
Grabbing
Releasing
You'll get incredible tonal depth, preciously sustained tails, and conveniently isolated strikes and "gusts" resulting in a natural representation of each chime.  All of the chime-work was recorded in 192 kHz so you can bend, stretch, and twist with the comfort of the extended harmonic content of each chime.  All of the performances resulted in 50 separate files for each of the 15 chimes, making layering and matching performances a breeze.  In addition to the chime sets, we've included four stereo wind captures, in different capacities and locations, for adding context and ambiance to any wind chime-appropriate environment you may find yourself working on. 
754
WAVs +
UCS-compliant metadata
192kHz &
96kHz / 24-Bit
Mono + Stereo (Mid-Side)
Ver 1.0
Tracklist