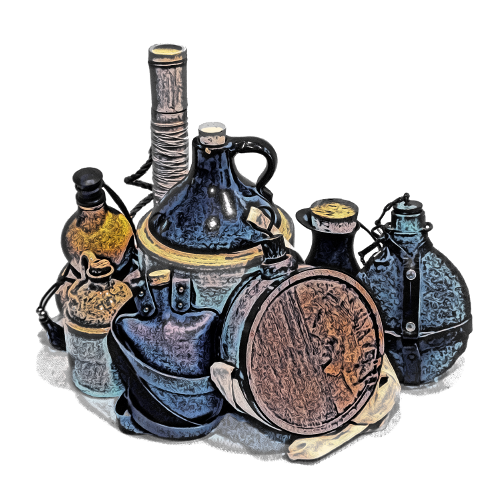 Flask
Whether on a hip, a saddle, a rucksack, or a feast-laden table, there is always a need to haul liquid sustenance from one place to another. From modern elegant meals to rustic ancient gatherings, from trudging along roads to riding on horseback, the using and carrying of vessels is nearly ubiquitous in so many productions. Instead of intricately stitching together awkward effects, this combination of containers serves all.
19 different receptacles of assorted shape, build, and material were recorded, capturing the opening and resealing, handling, and using both with and without liquid, in incredible detail. The breaking of both dry and wet seals are unique to each container and the materials of both the vessel and stopper/cap offer an incredible blend of sonic assets. The collection includes ceramic jugs, glass bottles, steel amphoras, wooden canteens, vials, pitchers, and more. Container and stopper effects are recorded separately to allow for easy mixing and matching. As with all of our libraries, multiple takes of the various actions and movements are made to easily batch and drop them into any project.

Don't be thirsty for rich audio, fill up with this unique library. And if you require even more liquid and drinkware goodness, be sure to check out Wakey Wakey!

911
WAVs +
BWF & UCS metadata
96kHz / 24-Bit
Mono
Ver 1.0
Tracklist