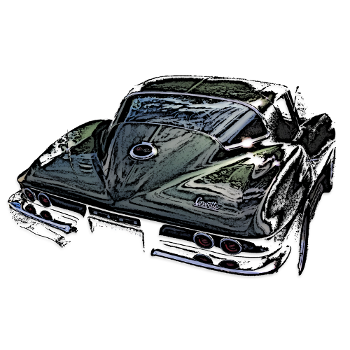 BigBlock
This library is an intimate profile of a completely original 1967 Chevrolet Corvette Coupe. It boasts a 427 'Big Block' 400 HP engine, a 4-speed Muncie transmission, 3x2 tri-power carburetor, and plenty of mechanical accessories. 
We recorded anything on the vehicle that made a definable noise: the handbrake, clutch, shifter, turn signal, horn, headlights, hood latch, gas cap, doors, and more.  Though the primary focus, of course, was on the beasty combustion and exhaust systems.  We collected multi- and single-point, interior and exterior, front to back recordings of the engine cranking, idling, and being cut.  We also experimented with a wide spectrum setup for passbys and various driving maneuvers.  Files pertaining to the same event are marked accordingly for easy grouping and layering.  This collection was designed so that in using multiple grouped files, you can effectively dial in/out the exhaust pipes independently (driver side, passenger side), interior ambience, and direct engine sources as desired.  Together with a number of alternative variations, you can use this library to bring any car in your project to life, quickly. 
Don't be afraid to give it a little gas.  Enjoy!
369
WAVs +
UCS-compliant metadata
96kHz / 24-Bit
Mono + Stereo
Ver 1.0
Tracklist
(Special thanks to Mr. Ira Cox)