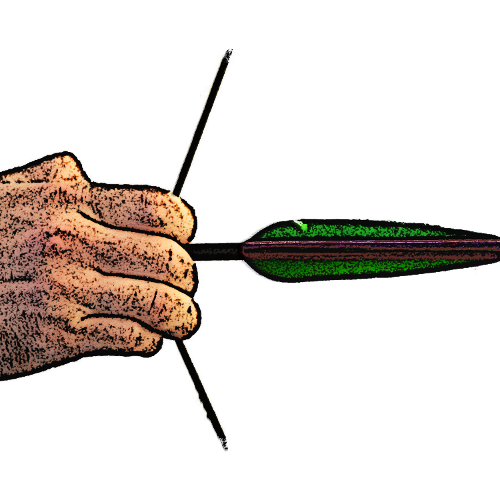 Nocked
Whether your need to bring a lone rogue to life or a surge of arrows in an epic battle scene, Nocked will provide you with a plethora of flexible content.
Our largest library to date, this collection is a comprehensive focus on the sounds and functions of the archer and the act of archery.  Included are eight recorded bows (2 crossbows, olympic recurve, traditional recurve, longbow, long compound, short compound, and Magyar bow) with 2 additional 'mythic' bows of our own design, each using 3 types of arrows (aluminum, carbon, and bamboo) on 3 varying surfaces (hard, soft, and dirt) from 4 simultaneous recording positions (at bow, at target, midflight mono, and midflight stereo).  Each bow and each arrow type have a character all there own.
The content's dynamic range is wide, from whispering bamboo arrows gliding on rests as they are drawn to firing position, to the powerful THWACK of crossbow bolts striking their target.  All non-firing sounds were recorded in a controlled studio environment while all recordings of the bows being fired were taken on a plot of wide-open rural farmland, encompassed by forests.  When needed, this ambient natural environment provided an ideal impulse response to be used in the design and editing of some of the sounds to create a heightened effect.
Included are a wide array of archery actions and Foley:
Nocking and unnocking arrows
Drawing
Firing (loosing)
Mid-flight pass-bys
Releasing / relaxing a draw
Impacts on targets
Arrow and accessory Foley (handling, selecting, gathering, dropping, etc.)
A multitude of takes are provided across each bow/arrow/surface/position combination for easy randomization and differentiation of sounds, or to track any number of unique archers at any given moment.
Go ahead, let them fight in the shade.
2047
WAVs +
UCS-compliant metadata
96kHz / 24-Bit
Mono + Stereo
Ver 1.0
Tracklist
(Special thanks to Dr. Steven H. Reid)