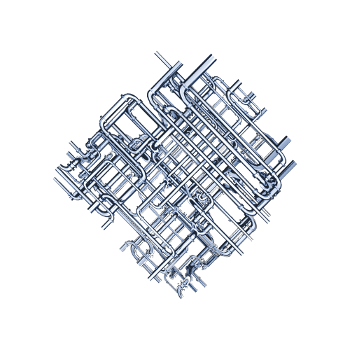 Tubular
This library is the result of tinkering with shotgun mics recording inside of different tube structures. When our initial tests produced a wide range of sonic colors, we went all in.
The tubes used include organic and man-made materials, some rigid, some flexible, some dense, some light, all with varying lengths, diameters, and thicknesses. They consist of bamboo, PVC, 2 variations of vinyl, thin plastic, copper, tin, rubber, dense foam, and a steel-coiled membrane. Each material has a different effect on the sounds passing through them. We generated turbulent drones, thick strikes, resonant scrapes, noisy bells, delicate debris, and more. The overarching characteristics are soft, insulated, and misty. Due to the behavior of the waves in the open tubes and the pickup pattern of the shotgun mics, there is a natural frequency modulation that gives the sound a slightly narrowed, hollow timbre. They work very well in simulated settings, enclosed spaces, and when there is a need to exaggerate the magnitude of tiny worlds. But they are equally as useful as raw design fodder, especially when a unique texture is needed.
This is our first library created solely for the sake of experimentation, though based on the results, it may not be the last!
365
WAVs +
UCS-compliant metadata
96kHz / 24-Bit
Mono
Ver 1.0
Tracklist