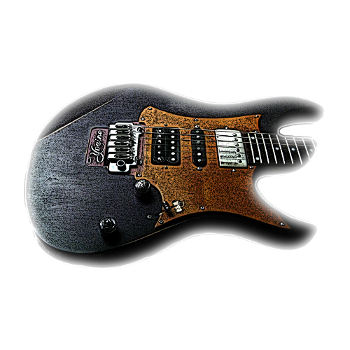 Yvaine
A massive electro-acoustic drone SFX library reft from a custom designed and hand-built instrument!
The guitar, Yvaine, was recorded simultaneously via two tracks (one direct and another amped and mic'd) and was set to 23 different tunings to encompass the full spectrum of her voice, character, and soul.  The tunings are as follows:
All5ths | B6th | Capo12th | CassianoPereiraViana | CrossnoteF | Cuba | DADGAD | DropB | Hawaiian | Koto | OpenA | OpenC | OpenD | OpenE | OpenF | OpenG | OpenPage | Orkney | Ostrich | Pentatonic | Spira | Standard | TheEdge

The files range from uber clean and harmonic to gritty, crackling, and distorted.  For some of the overdriven amped recordings, we even experimented with creative NR settings for the modulation of artificial harmonics...and kept some of the more colorful results! Between the two different tracks, multiple takes were made per strength, per position, per recording.  Depending on which takes were best, some of the DI and amped captures matched, while others were physically different.  This offers unique layering capabilities for some sets while allowing for variety in others.  Some of the sets are missing particular strength recordings at specific positions.  But if a capture wasn't appropriate, we didn't include it.
This is a bountiful collection of droning power.  Use it for good.
1,359
WAVs +
UCS-compliant metadata
96kHz / 24-Bit
Mono
Ver 1.0
Tracklist